Chez Vous caterers specializes in on-location catering. This is the first in a series of posts highlighting some of the beautiful and interesting locations that we've worked with.
Today we're spotlighting Manhattan's beautiful New York City Fire Museum.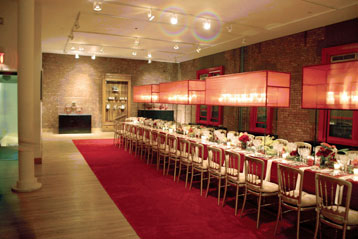 Here's what the venue had to say about holding events there:
The Museum's third floor loft is the perfect place to host your next special event. The space may be rented by individuals, businesses and organizations for meetings, birthday parties, weddings and more! The T-shape Commissioner's Room offers over 3,000 square feet.

Venue
Size: 3,030 square feet
Ceilings: 12 feet

Capacity
175: maximum seated
300: maximum standing
We've catered a number of parties at this location, and one thing is for sure. Party guests absolutely love it.
If you're interested in booking a party with Chez Vous Caterers at either of these locations please contact us and we'll set everything up!