Cute D.I.Y Ideas For Hello Kitty-Themed Birthday 
Pom pom backdrops are easy, very inexpensive, and so versatile. These can be used as a backdrop for a dessert table, art on the wall to add to your parties decor, or as a "photo booth" backdrop.

Supplies:

1 large piece of foam board or several smaller pieces of foam board, depending on what size you want the backdrop to be
Tissue paper, in assorted colors of your choice
Floral wire
Hot glue gun
Scissors

If you are using several pieces of foam board, begin by taping your foam board pieces together to create the overall backdrop size you want.

We suggest using heavy tape, such as duck tape or packaging tape. Simply run tape along the seams of two pieces of foam board (on the backside). Now you are ready to start making your tissue paper pom poms.

Step 1 — Stack eight 20-by-30-inch sheets of tissue. Make 1 1/2-inch-wide accordion folds, creasing with each fold.

Step 2 — Fold an 18-inch piece of floral wire in half, and slip over center of folded tissue; twist. With scissors, trim ends of tissue into rounded or pointy shapes.

Step 3 — Separate layers, pulling away from center one at a time.

Now that your pom poms are made, begin gluing rows of pom poms onto your foam board backdrop using a hot glue gun.

Lay the board flat during this process and applying the glue at the center of the pom pom, where the wire has been wrapped. She chose to alternate colors but your backdrop design is only limited by your imagination.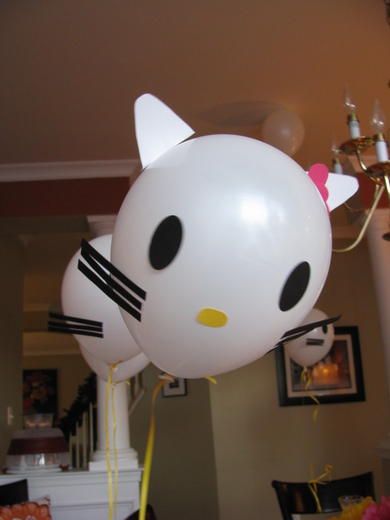 Hello Kitty Balloons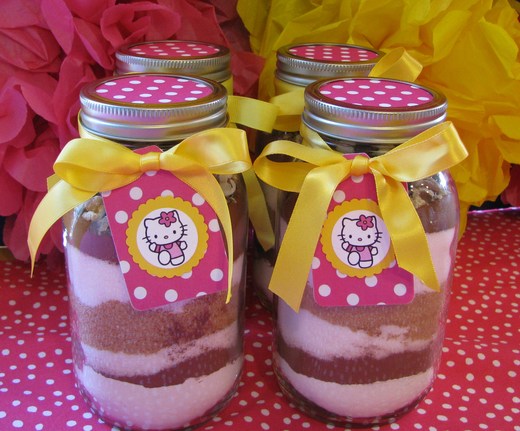 Cake In A Mason Jar