After looking through countless runway shows from the Fall 2015 and Spring 2016 bridal shows, we cannot be more excited about this season-s bridal trends! Top designers, such as Oscar De La Renta, Vera Wang, and Prata, have out done themselves this fashion season with their innovative twists on some modern classics. Below, are the top 20 trends for the 2016 Wedding Season.
1) Fringe and Feathers 
Feathers were originally used for ornamentation on headbands and masks, but in the 1920s the feather was used in dresses and skirts to provide more movement to the garments. This gown by Lela Rose is a prime example of how to pull off this look. The feathered skirt paired with the corset bodice is absolutely breathe taking.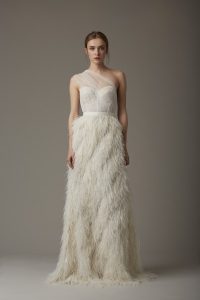 Fringe, much like feathers, was huge in the 1920s and made a slight resurgence in the 1960s and 1970s during the hippie fashion movement. This dress by Naeem Khan is a great way to pull off fringe in a fun, classic way. Having the gown stop before the knee is a great way to be both fun and flirty for your special day.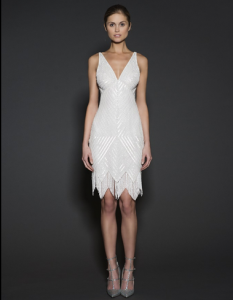 Out of all of the fringe gowns that we have seen this season, this gown by Pronovias is perfection! The movement of this gown as you walk down the aisle will leave all of your guests breathless.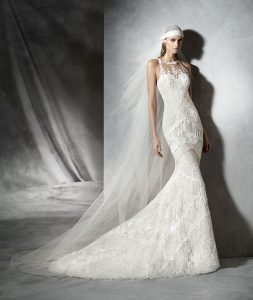 2) Separates
The crop top originally made its debut in the 1940s as a way for women to show a little more skin in a conservative manner. The tops originally had collars and only showed off a small portion of a woman's upper waist, this allowed the hourglass figure of a woman to be emphasized. Since then, the trend has broaded since the 70s and 80s to show the midrift of a woman. This particular gown, designed by Stone Fox Bride, is remnant of the 40s rendition of the crop top, but is done in a high fashion manner as shown from their 2015 Fall collection.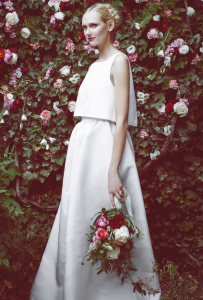 The pantsuit was first worn by women in the 1920s, but was seen as being unlady like. It wasn't until the 1960s, when Yves Saint Lauren, made the pant suit a desirable outfit by women of the era. Today, the pant suit has evolved and is worn by many celebrities. Brides have taken a liking to this trend because the look is a sophisticated option for any bride who is not a fan of wearing a gown. This one was designed by Temperley London.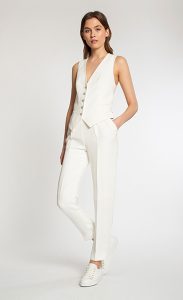 Ballgowns have always been a popular option among brides, these separates were designed by Pronovias. This is a perfect blend of masculine and feminine for any nontraditional bride.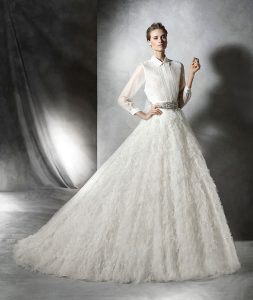 3) Corset Bodices
A corset was a popular choice for women in the 16th and 17th centuries. Oscar De La Renta's interpretation on this classic piece is one of the reasons why you will be all over this trend. The dress has a hyper feminine silhouette and will flatter any body type as it creates an hourglass figure and hugs a woman's curves.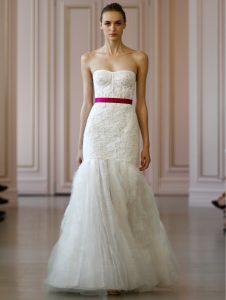 This lovely corset also plays off of the ice blue trend with the ivory color fading into a luscious ice blue at the bottom. Designed by Claire Pettibone, this gown has wonderful movement and flow.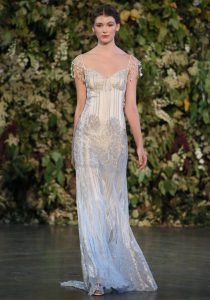 4) Flouncy Sleeves
Sleeves were huge this past runway season, and many designers went outside of the box with the types of materials they used. The flouncy sleeve gives the garment more of a romantic look and really brings attention to elongate your shoulders and makes the bride look more confident and radiant as she walks down the aisle. This dress, designed by Claire Pettibone, was one of the standout dresses for this trend.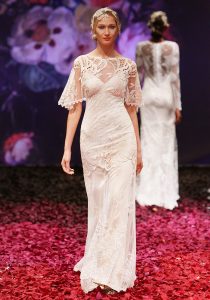 5) Cutouts and Laser-Cut Florals
Cutouts became popular in the 1970s and 80s as a way to further enhance the crop top. Today in fashion they are a great way to emphasize the smallest part of a woman's waist in order to make her appear slimmer. This gown, designed by Anne Barge, combines the cutout trend with a metallic bodice which creates a very chic look. Perfect for any black tie themed weddings.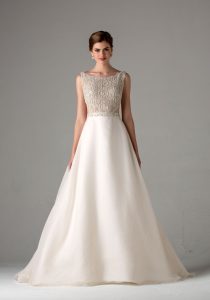 This romper takes the trend and goes it in a more subtle, sexy way. Designed by Gemy Maalouf, this romper is perfect for any nontraditional bride looking for comfort and style.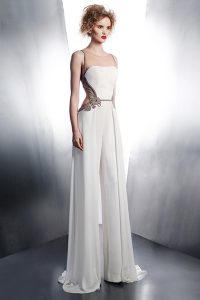 Ice blue, cutouts, and the floral-laser cut pattern?! Can you say #TrendOverload?! This gown is simply stunning and is genious designed to be in for many seasons to come. Designed by Monique Lhuiller, this is our top pick for the season.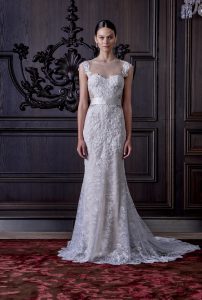 6) Deep V
This trend began in the middle east and has since spread across fashion and has been adopted in various different ways. This type of gown is great for accentuating the neckline and for showing off the girls. This gown, designed by Alon Livne, combines the metallic and deep v trend to create a stunning dress that we would definitely say yes to.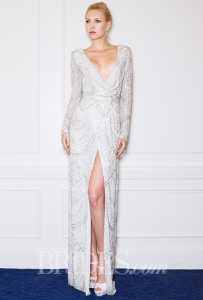 Designed by Delphine Manivet, this gown is perfect for a beach wedding ceremony or for any sort of outdoor wedding.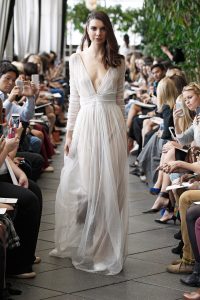 7) Color – Ice Blue, Rose Gold, Champagne, and Metallic
This gown was designed by Monique Lhuiller, and is a very subtle way to add color to your gown. Ice Blue is believed by many to have been made popular through the character of Elsa from Disney's Frozen.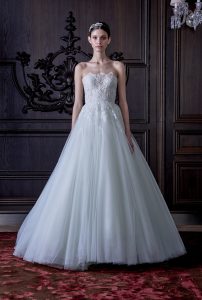 This metallic show stopper was designed by Isabella Armstrong and is the perfect solution for any woman with curves.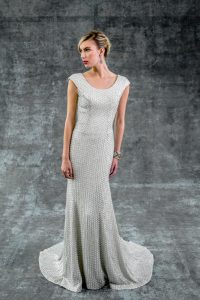 This Rose Gold Gown is any woman's dream. Designed by Monique Lhuiller, can you say love?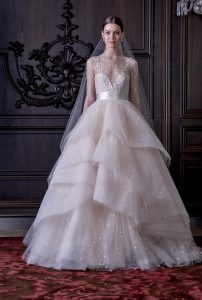 These gowns are going to be all over bridal boutiques for the next year. Chez Vous is also now accepting 2016 Bridal Bookings, we also have a few slots open fr 2015 Weddings as well. For more information on our rates, venues, and rentals, call Ettore at 347.723.1825 or e-mail us at Ettore@cvparties.com.
https://cvparties.com/wp-content/uploads/cv-2014-1.png
0
0
Ettore
https://cvparties.com/wp-content/uploads/cv-2014-1.png
Ettore
2015-07-24 11:13:34
2015-07-24 13:29:14
7 Bridal Trends for Fall 2015 and Resort 2016