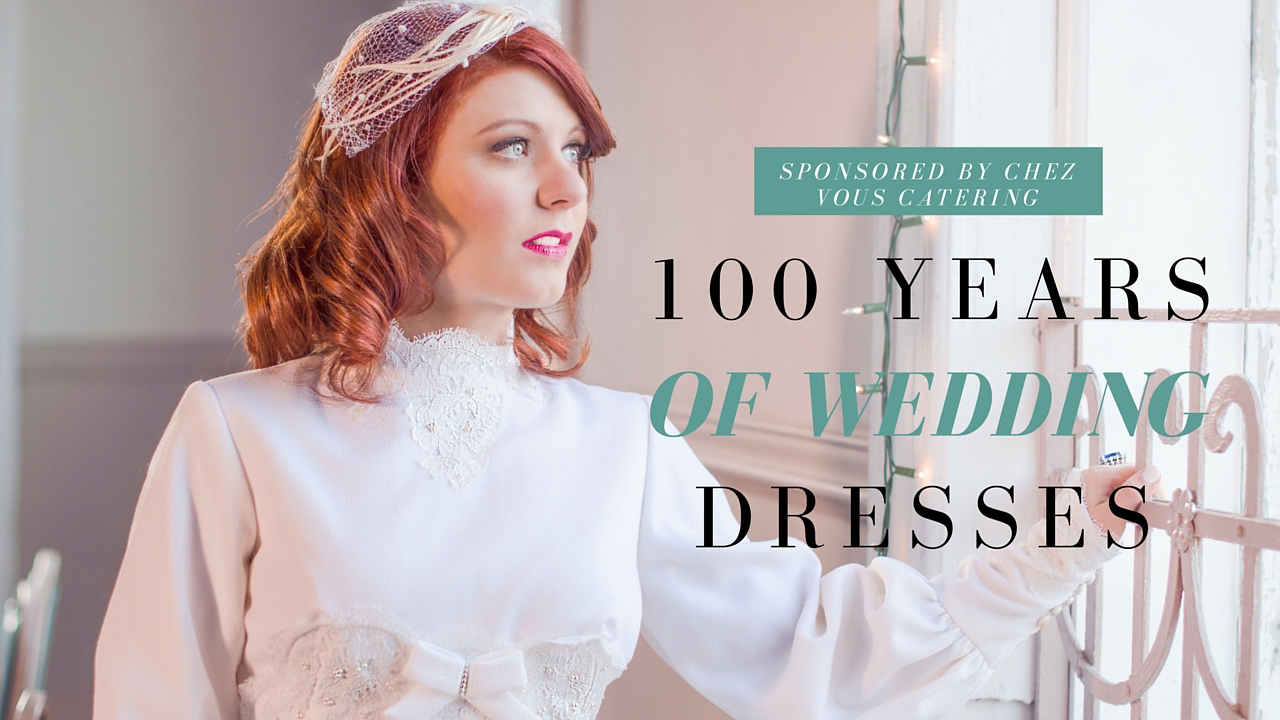 I was always inspired by the rich history of Edgewater Hall, and imagined all of the brides who walked through these doors to be wed over the past 140 years. Edgewater Hall was built in 1876 as an event space by Michael Nynan, and today continues the tradition of opening our doors to brides for their wedding day. Thus, I decided to blend together Edgewater Hall's rich history with that of the history of wedding gowns to bring you 14 different wedding looks that are both traditional and nontraditional for our project entitled "100 Years of Wedding Dresses".
1900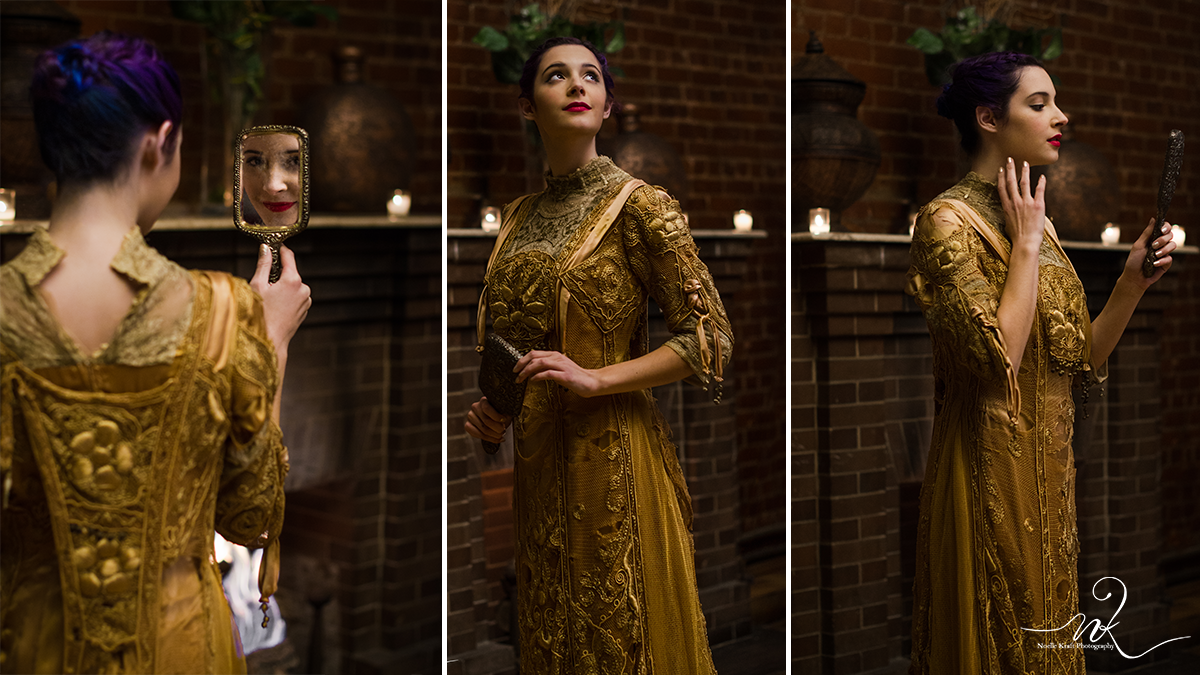 The early 1900s were characterized by their high neckline dresses, detailed embroidery, and the "Gibson Girl" hairstyle.
This dress is from Every Thing Goes Clothing and was designed by Laracy, whose design headquarters used to be located off of West 46th street in Manhattan. There is a Laracy gown that is in the Metropolitan Museum's collection, but the dress is not currently on display.
1916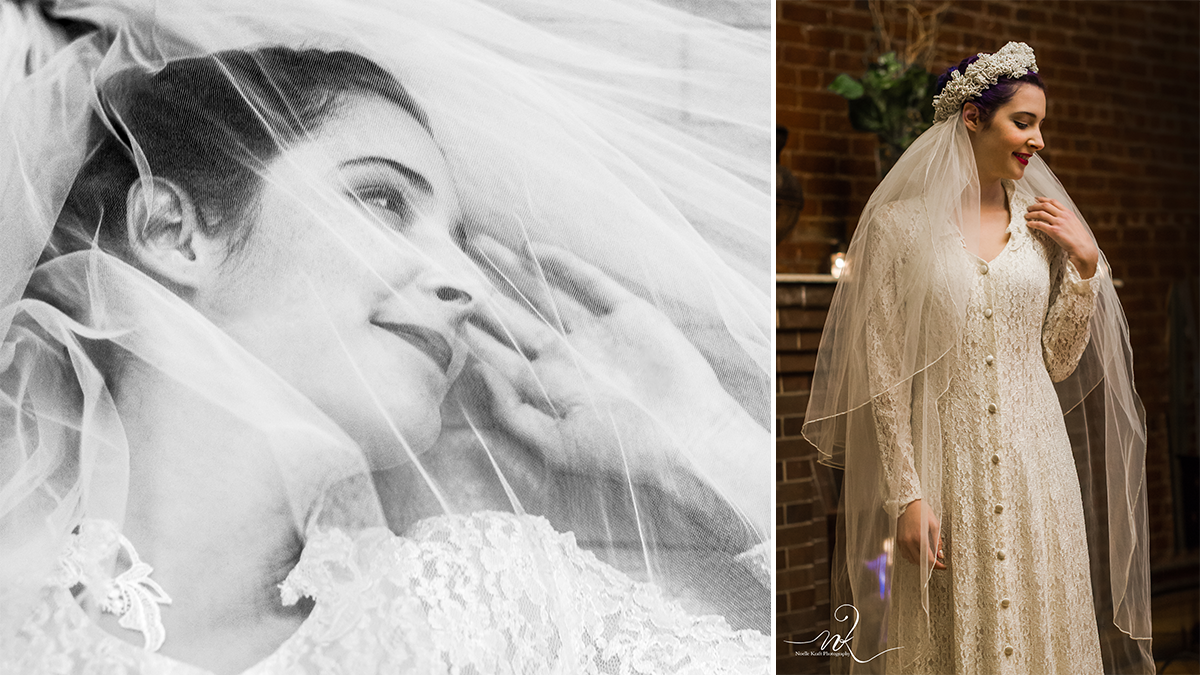 During the 1910s, which was the Late-Edwardian era, the dresses still maintained their high necklines, however the waistline of the dresses began to rise in order to reveal a woman's natural hour-glass figure. Dresses during this time were typically floor length, however, some women showed off their ankles.
This look was styled by Angel Lee, the owner of Monkey Girlz Boutique, a consignment shop located on Manor Road on Staten Island.
1920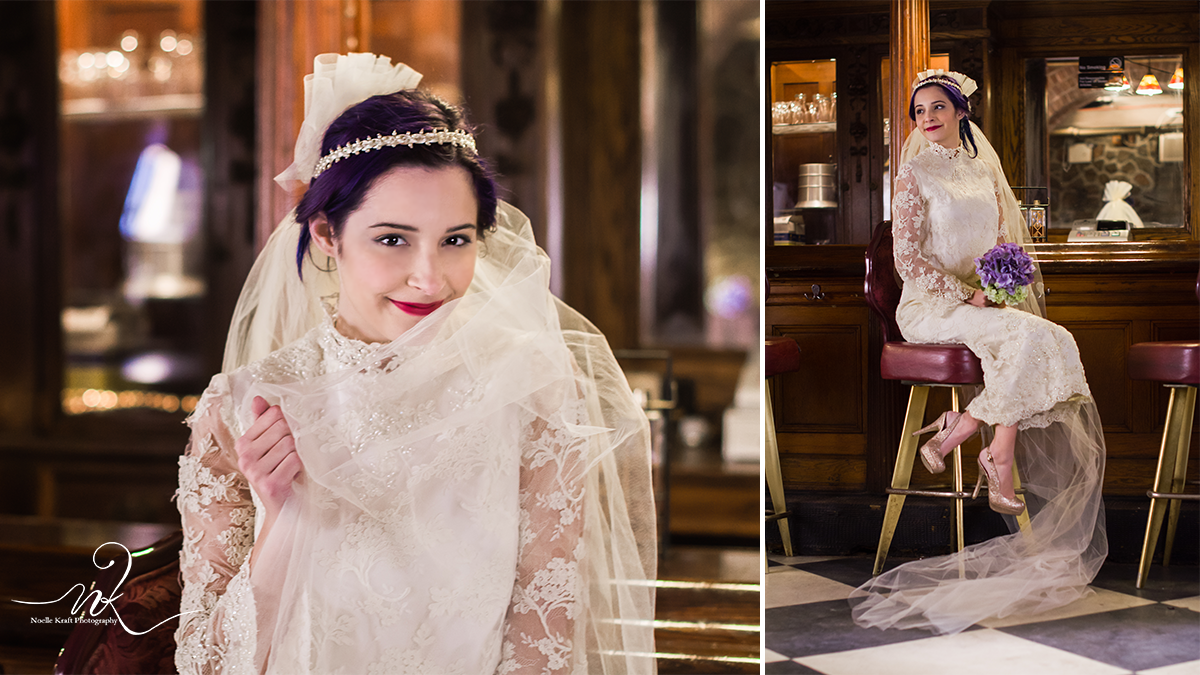 Before the boldness of the Flapper dresses that defined the mid-late 1920s, most brides opted for a Late-Edwardian dress that had a looser form. These dresses still had a high neckline, but the hemline typically ended at the ankle for a more flirty look. We paired this dress with a floor length veil.
This look is from Monkey Girlz. 
1926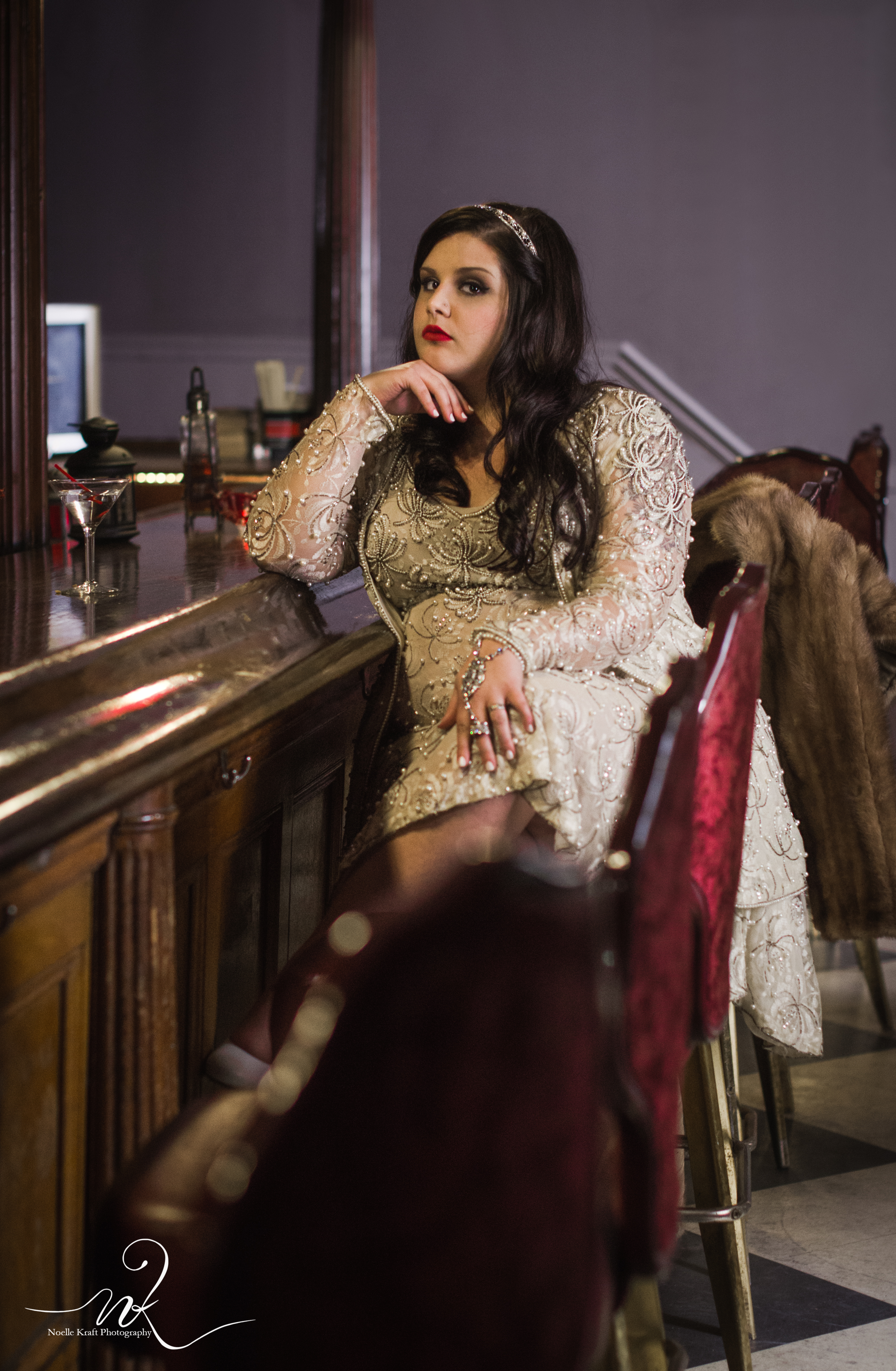 It wasn't until 1926 that flapper fashion became popular. A flapper was characterized by their short sleek hair, a shorter than average shapeless shift dress, their make up, and exposed arms and legs. These women were fashion rebels in the Jazz Age and they loved every minute of it.
Dress by Monkey Girlz Consignment with a matching beaded cardigan. The headband and ring are also authentically from the Jazz Age. The fur is from Every Thing Goes Clothing.
1930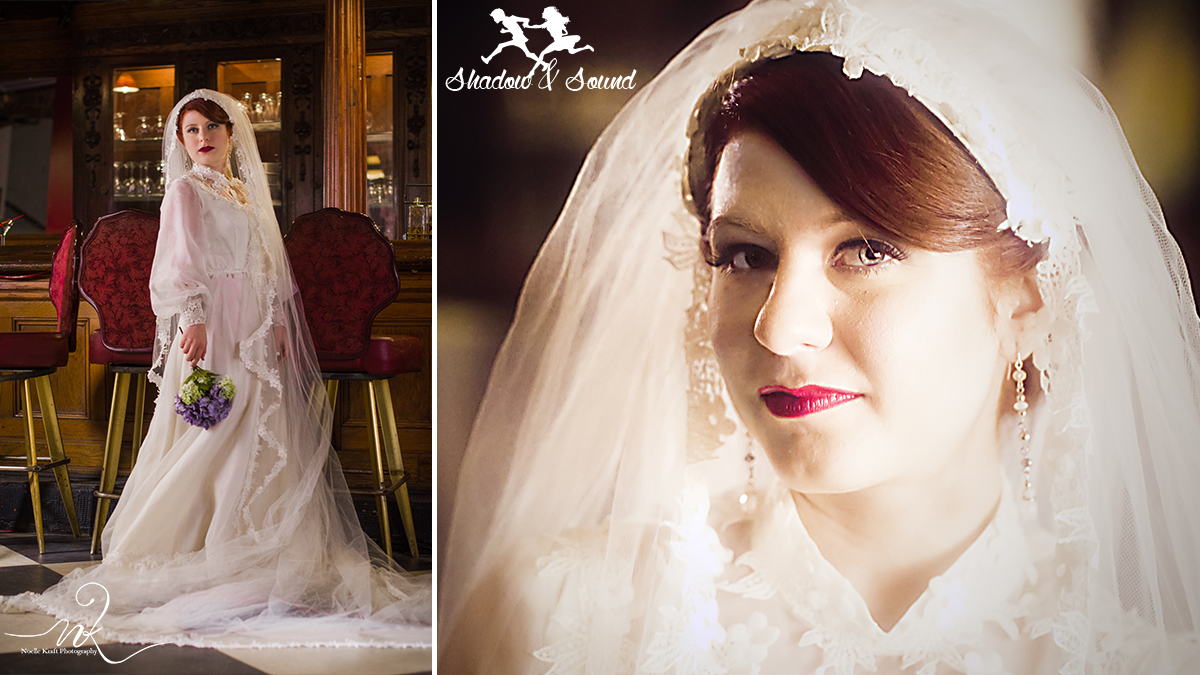 The history of this dress is very interesting. Before this dress landed in Monkey Girlz' shop, it was worn by two generations of women. Originally this dress was worn in the 1930s for a Staten Island Wedding, and then in the 1970s by the dress owner's daughter. We styled this dress to bring out its original glory during the Jazz Age. The veil is original to the 1930s, and came with this hand crafted gown.
1940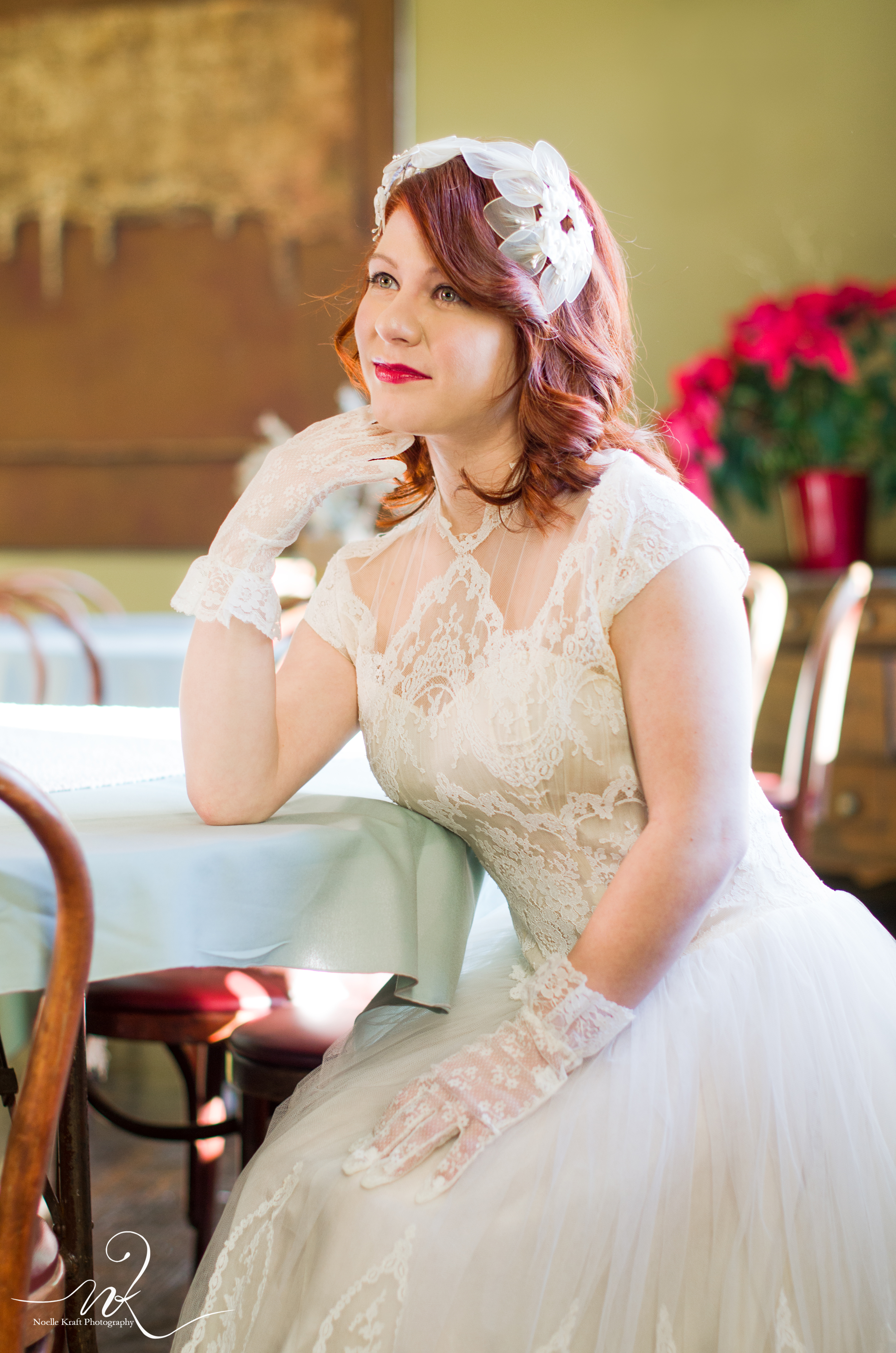 In the 1940s, brides had two options for their wedding gowns, to either buy them using their rations or to make their own. This dress in particular was made by a woman who was originally from Brooklyn and relocated to Staten Island later on in her life. The gown is tea length, which started to become popular in the 1940s.
Dress by Monkey Girlz. Gloves by Hey Viv!
1946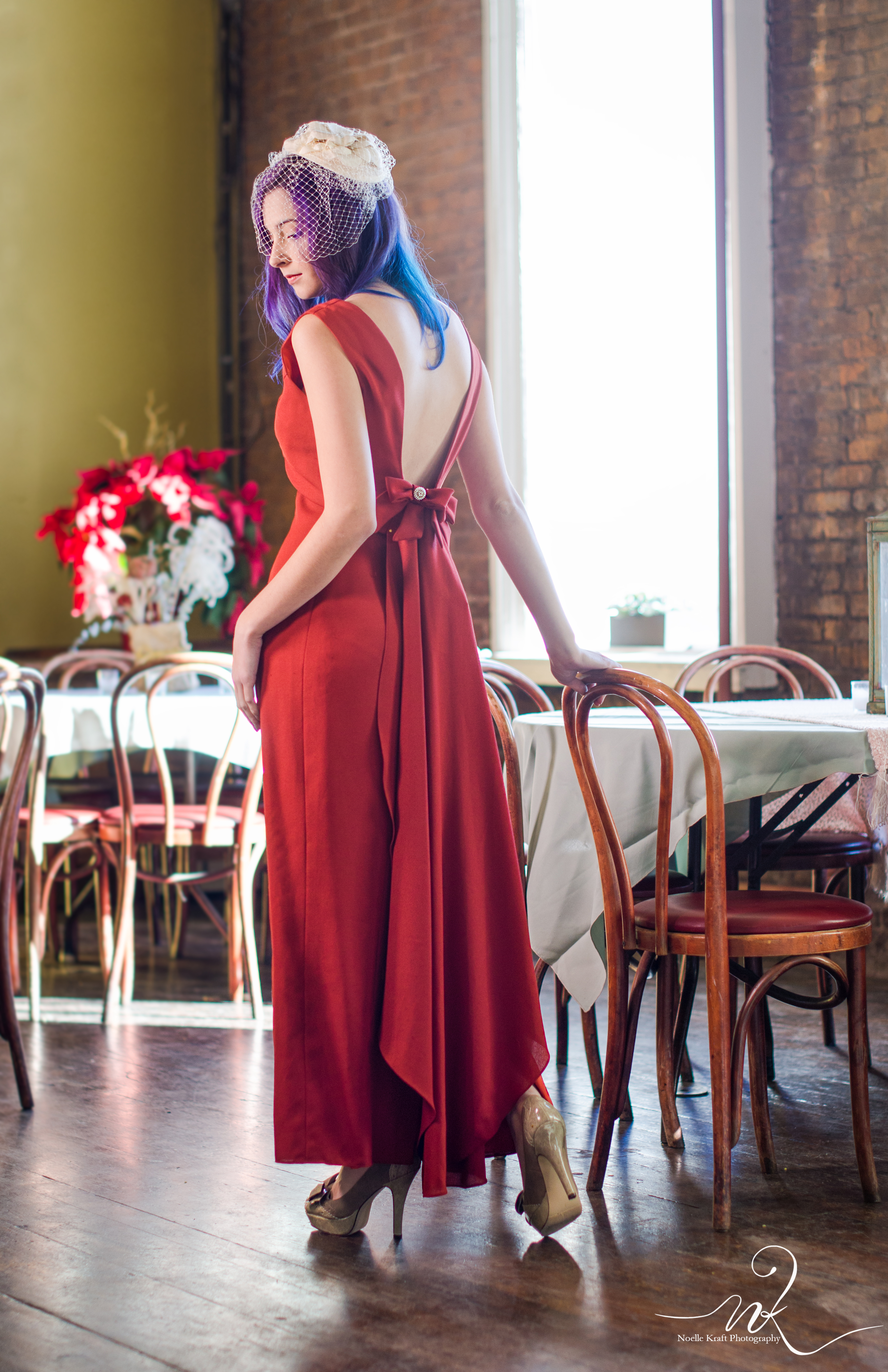 Styled after what a World War II era bride would wear for a city hall wedding, this dress is certainly nontraditional. The dress has a train in the back and is cut low to accentuate the back, which was thought to be very alluring in the 1940s.
Dress from Every Thing Goes Clothing and the birdcage veil with a cream hat is from Hey Viv!
1957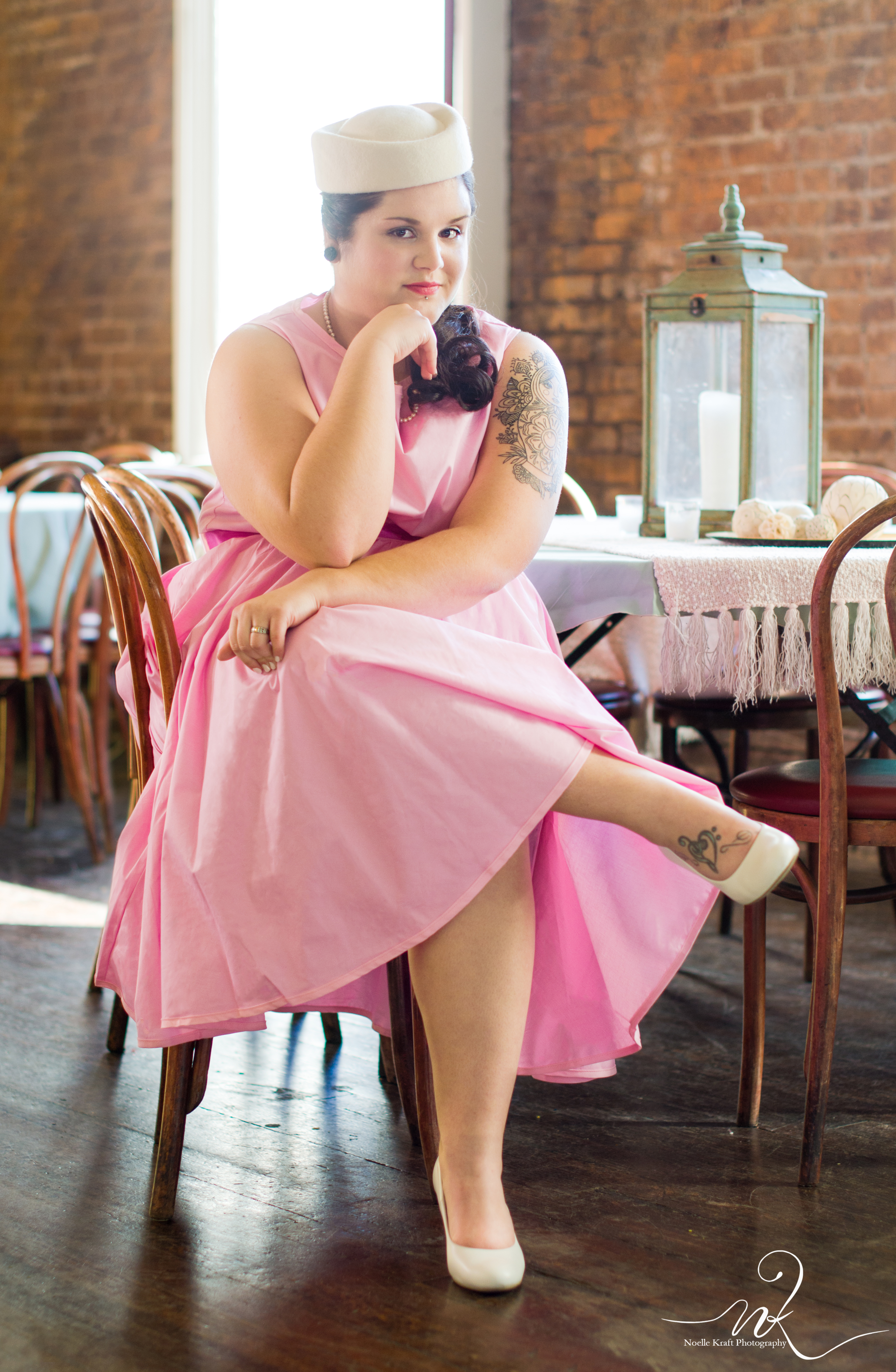 The 1950s was a time where women began to experiment with color. It is also a time where the tea length wedding dress was considered to be the norm. In 1957, Audrey Hepburn wore a tea length wedding gown which was designed by Givenchy for the film Funny Face, which defined the era. The gown was so iconic that women of the era tried to replicate it.
Gown from Hey Viv! as is the pill box hat.
1960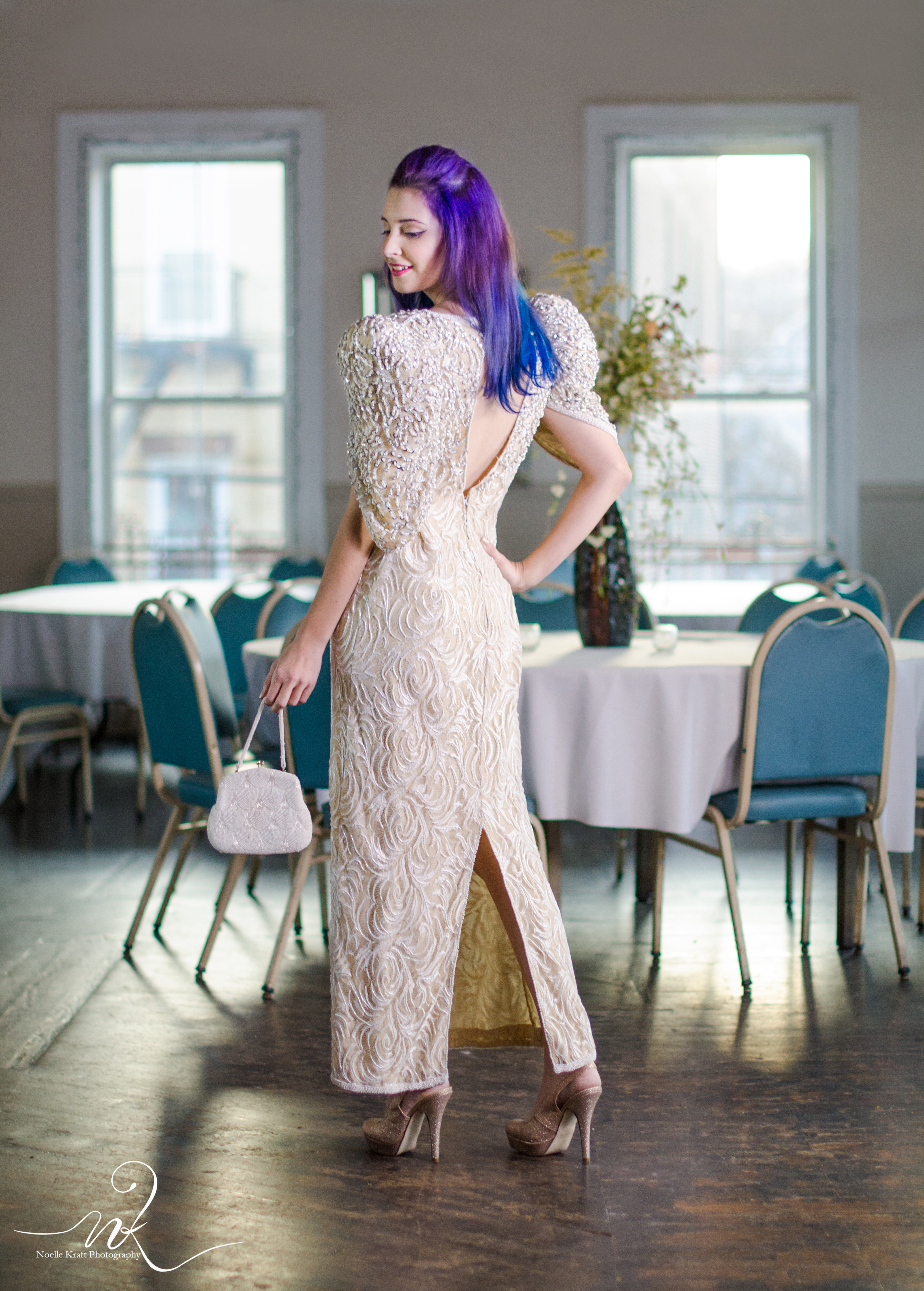 The 1960s are known for their flower power movement and empire line dresses were the norm for brides of the era. We decided to put Allison in a nontraditional gown that was worn in the late 1960s. The big shoulders and the beaded detail provide this gown with its wow factor.
This gown is from Monkey Girlz.
1970
Disco was kind in the 1970s, and this dress with its empire waist, puffy sleeves, and short hemline are perfect for any dance floor. Beginning in the 1960s, brides experimented with their gowns and the experimentation carried on into the 1970s.
This gown and the veil were provided by Monkey Girlz.
1980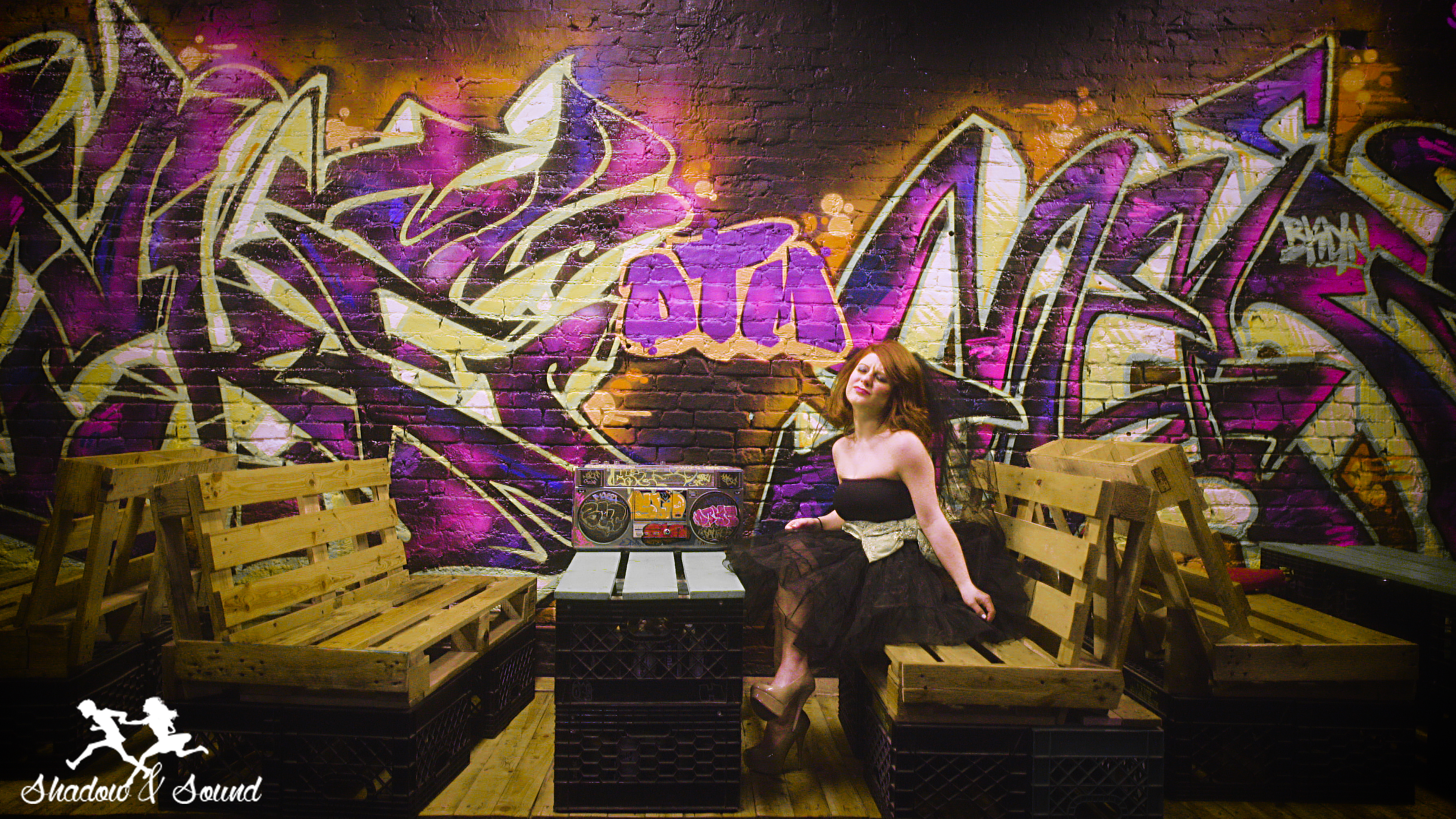 Oh the 80s, a time of big hair, wild color, and punk rock music. Which is why we decided to shoot this at Overspray, a 2 floor graffiti art infused event space.

This look is inspired by the 80s from the dress by Monkey Girlz, to the green belt by Every Thing Goes, to the black veil, this dress screams 80s.
1990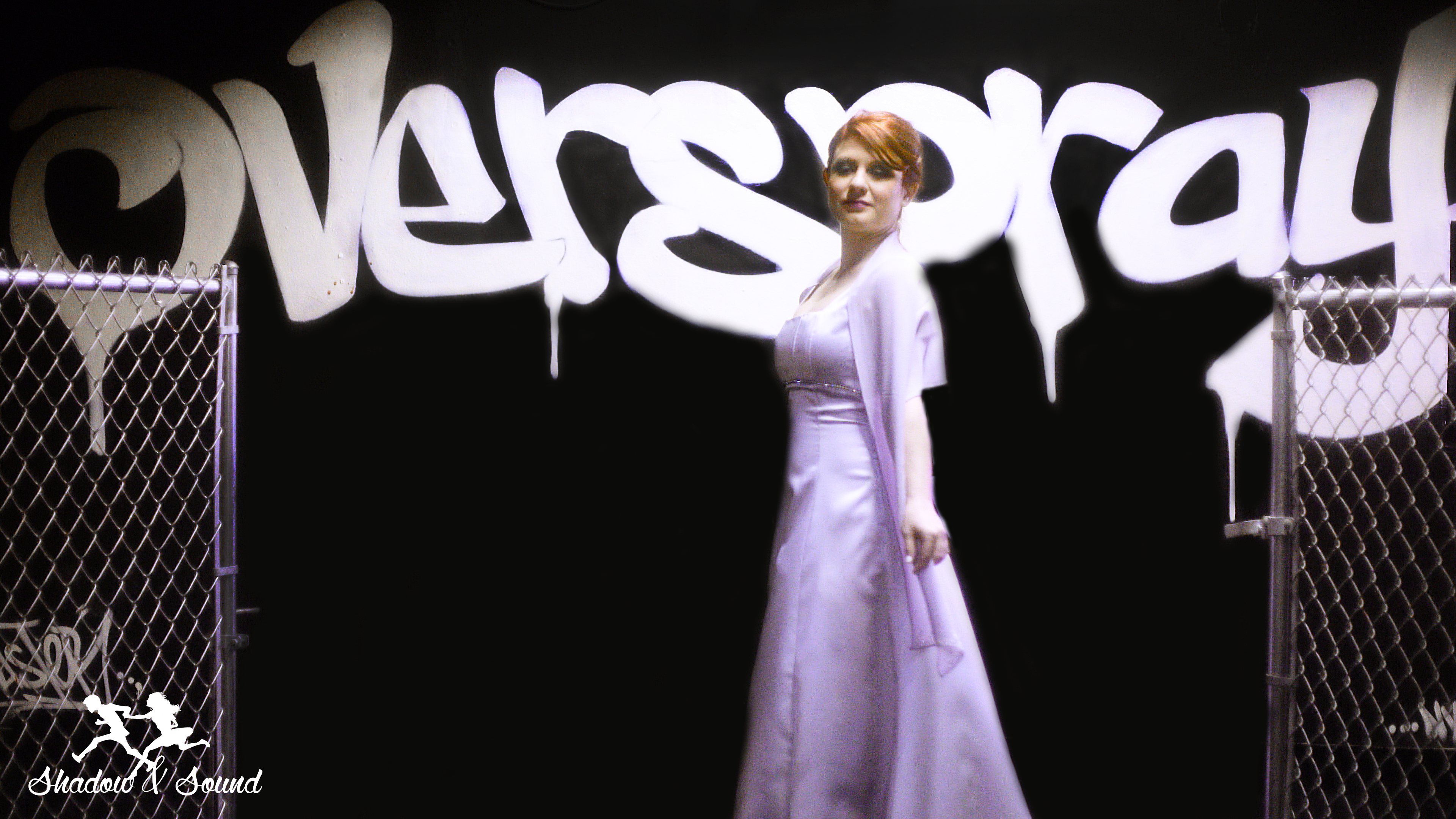 The 90s were a time when grunge and teenage angst ruled the runways. We chose Overspray, caged in area to further channel the 90s.
This gown from Every Thing Goes is no exception. The silver color and the simple silhouette are all typical of the era, and you may have even seen Buffy from Buffy the Vampire Slayer wear something similar to this dress to her prom.
2000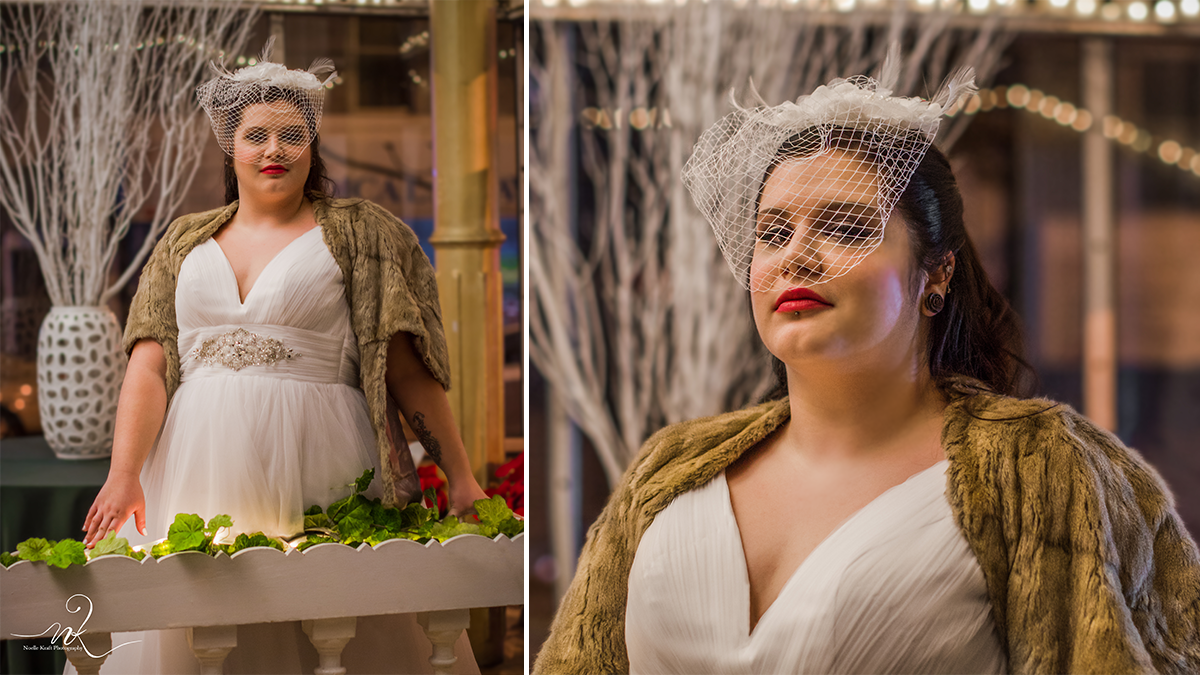 In the early 2000s, women were obsessed with ruching and bling. Ruching is a draping technique that creates pleats and folds in the fabric. It also has a slimming effect.
This ballgown with ruching and a blinged out belt is from Bossina Couture which is located in New Dorp. The fur is from Every Thing Goes Clothing.
2016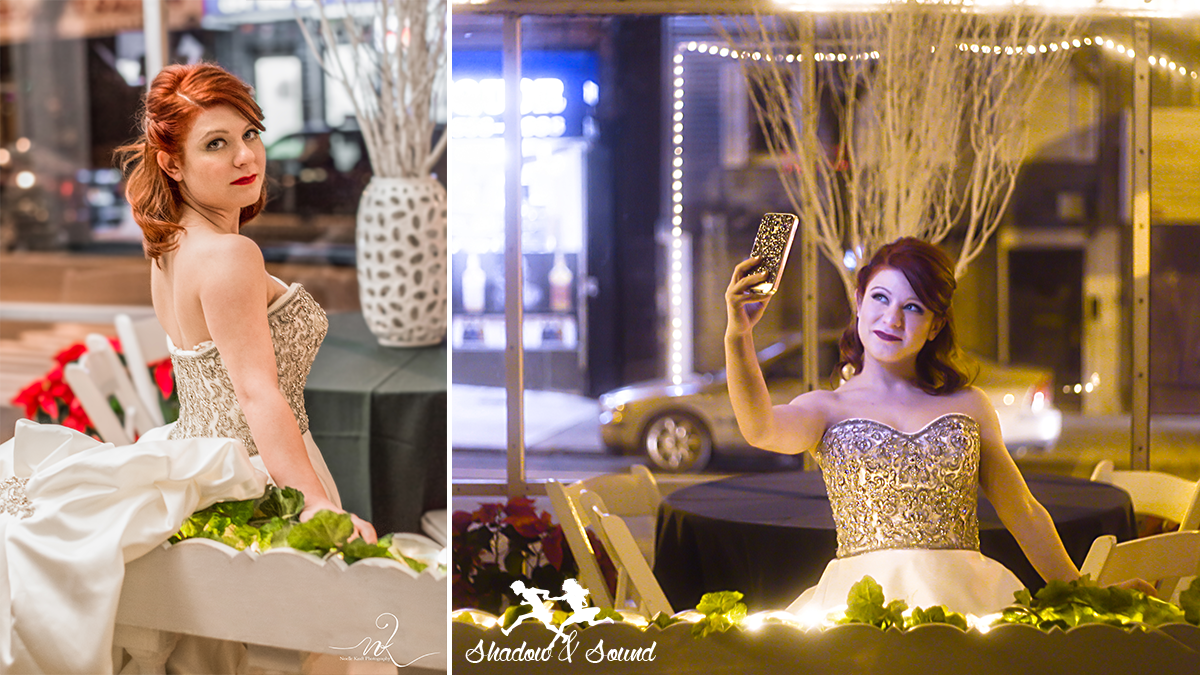 This year women are opting for fewer and fewer traditional dresses. The main upcoming bridal trends are a corset bodice, blush or ice blue wedding gowns, and embellished bodices like the one provided by Bossina Couture.
Thank you to everyone who participate in the, 100 Years of Wedding Dresses shoot. Our hair and make-up team, consisted of Alona Tsuanko and Lola Durojaiye. Alona and Lola were put to the ultimate test in order to create 14 different, unique looks. The stylists for this shoot were the ever talented Angel Lee of Monkey Girlz and Alexandra Nyman. Nyman also served as the director and coordinator for this shoot.
Although the dresses were per-say the "belles of the ball" much credit is to be extended to the Vintage Boutiques on Staten Island, Monkey Girlz Boutique, Every Thing Goes Clothing, Hey Viv!, and Bossina Couture. Photography by Noelle Kraft Photography.
To have had the opportunity of shooting this project at the Edgewater Hall was indeed The " Piece de Resistance" for it gave the shoot that grand, historic ambiance of yester years. Models Allison Morales, Katherine Hughes, and Jillian Dente. Allison 1900-1920, 1946, and 1960, Katherine 1926, 1950, and 2000 and Jillian Dentem1930, 1940, 1970-90, and 2016.
100 Years of Wedding Dresses, video which will be released in March by Shadow and Sound.
If you are interested in viewing the Historic Edgewater Hall, please book an appointment by calling 718.720.0900 or by e-mailing us at ettore@cvparties.com.
About Chez Vous Caterers
Staten Island caterers, Chez Vous catering and party rentals, proudly serves the entire New York City area.
With over 20 years in the business Chez Vous proudly offers elegant service at inspiring pricing. Catering, Party Rentals, and Planning are available for Weddings, Sweet Sixteens, Birthdays, Baby Showers, Corporate Events, and any other gathering that requires great food and service.
Staten Island Off-Premise Catering Service
If you are hosting an event at your home or another unique location, let us provide the food, staff, tables, and chairs necessary to transform any space into an elegant environment.
To contact us about catering at our home or yours, contact us at: (718) 720-0900
https://cvparties.com/wp-content/uploads/Sponsored-By-2.jpg
720
1280
Ettore
https://cvparties.com/wp-content/uploads/cv-2014-1.png
Ettore
2016-01-14 15:03:58
2016-03-30 19:40:32
100 Years of Wedding Dresses