Choosing Your Wedding Dress Fabric
Choose the princess or mermaid wedding dress, sweetheart or off shoulder? When choosing customized wedding dresses, brides always strive to keep improving to every detail. But at the same time in the selection of the design and style of wedding dress, does a prospective bride like you have any understanding of the fabrics of the wedding dress dressed in? Actually, different fabrics have a great influence on the styles and designs of wedding dresses. Therefore, being aware of the dress fabrics and choosing the suitable one are so significant for you to get a fabulous wedding dress to wear on your big day. Currently, the basic common wedding dress fabrics are lace,satin, taffeta, chiffon, organza etc. The characteristics of these fabrics have a lot of things to do with what style of dress for the production. Let us provide you some tips when choosing your wedding dress fabric.
Taffeta
Taffeta is featured as crisp, lustrous, fine and smooth with bright colors and soft luster. It is plain-woven and with a fine crosswise rib effect, used especially for women's clothes. Therefore, a large number of wedding gowns are made of taffeta. The typical styles of taffeta wedding dress are princess gown with exquisite and complicated decorations, A-line ones and mermaid wedding dresses.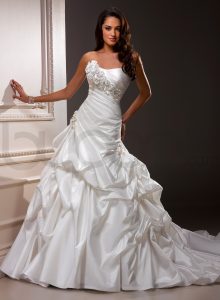 Chiffon
The characteristics of chiffon are light texture with better drivability. It is soft, transparent, elegant and comfortable. And all these features make it an ideal one of the fabrics of spring and summer wedding dress, combined with the most natural nobility. Such a fabric is suitable for style: pure and fresh A-line wedding dress and elegant mermaid ones.
Organza
Organza is of light weight, transparent or translucent, plain, often used with satin or silk fabrics as collocation. It can be bright-colored after dyeing. The suitable styles for organza are beautiful ruffled or multilayered wedding dresses, dreamlike princess skirt and romantic A-line ones.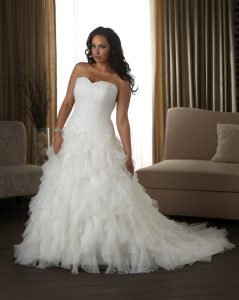 Satin
Satin is featured as soft, smooth, bright and colorful, a fabric in a warp-effect or filling-effect satin weave, often having a glossy face and a soft, slippery texture. It is Suitable for style like gorgeous retro wedding dresses with train, princess dress and A-line ones.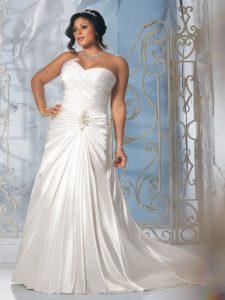 Lace
Exquisite lace is a kind of beloved fabric that is applied widely in women's clothes. Lace is a delicate fabric made of yarn or thread in an open web-like pattern Lace is obviously used widely in wedding dress. Its glamour lie in the mysterious effect of making the bride being pure and dignified or being sexy and charmful. Lace is now applied into transparent or translucent wedding dress. Meanwhile, it can be naturally combined with other fabrics in wedding dresses of various styles.
https://cvparties.com/wp-content/uploads/cv-2014-1.png
0
0
Ettore
https://cvparties.com/wp-content/uploads/cv-2014-1.png
Ettore
2014-03-20 17:20:49
2014-03-20 17:30:10
Choosing Your Wedding Dress Fabric